Uninterruptible power system (UPS) failures can spell disaster for businesses that rely on this form of backup power to prevent critical data loss.
In fact, UPS system failure ranks as the No. 1 cause of unplanned data center outages, according to a report from the Ponemon Institute.
Even more disheartening, the same study estimates the average price tag of a data center outage to be a whopping $740,357.
However, preventing these failures is easier than you might think. Understanding the different types of UPS failures and how to prepare for them can help you prevent them from happening.
What Is a UPS and a UPS Failure?
A UPS is a power solution that allows electrical devices such as computers to continue running during a power surge or outage. UPS devices maintain and replenish energy storage as long as utility power is available. The more energy your UPS is able to store, the longer you'll be able to maintain a power supply. A UPS device is essential to prevent the loss of crucial data since a sudden power outage can force systems and computers to shut down without saving open files.
A UPS failure is when the system works incorrectly or the outage lasts longer than the UPS battery supply. The failure can result in critical data loss that impacts your business and revenue. Preventing UPS failures is essential to protect your business from a loss that affects your bottom line.
While preventing a UPS failure can seem like a big task, it's surprisingly simple.
By engaging in regularly scheduled preventive maintenance (PM), you can dramatically lessen the likelihood of a load loss while also extending a UPS's overall lifespan.
Research has shown that the mean time between failures (MTBF) is more than 20 times better for UPS's that receive preventive maintenance twice a year over those that do not.
Prevention pays off, affording the opportunity to detect and repair potential problems before they become significant and costly.
Common Reasons for UPS Failures
Unfortunately, many business owners only ask why their UPS failed after the event and a corresponding data loss. Depending on the nature of the situation, there may be several culprits.
Whether you are operating aging infrastructure or looking to optimize the life span of a newer equipment, consider some of the most common UPS components that are susceptible to failure:
1. Batteries
As the heart of any UPS system, batteries require regular checkups to ensure they remain fit to safeguard critical systems.
Regardless of their age, batteries should be inspected semi-annually as part of a PM visit that includes testing for impedance or conductance, as well as assessing performance and evaluating any potential weaknesses.
You can tell if your UPS battery needs to be replaced if:
You're getting poor voltage readings.
You're getting low-battery alarms.
You're noticing an early discharge.
2. Capacitors
A fairly simple device that stores and releases electrical energy, capacitors range in size and type and must generally be replaced every five to seven years.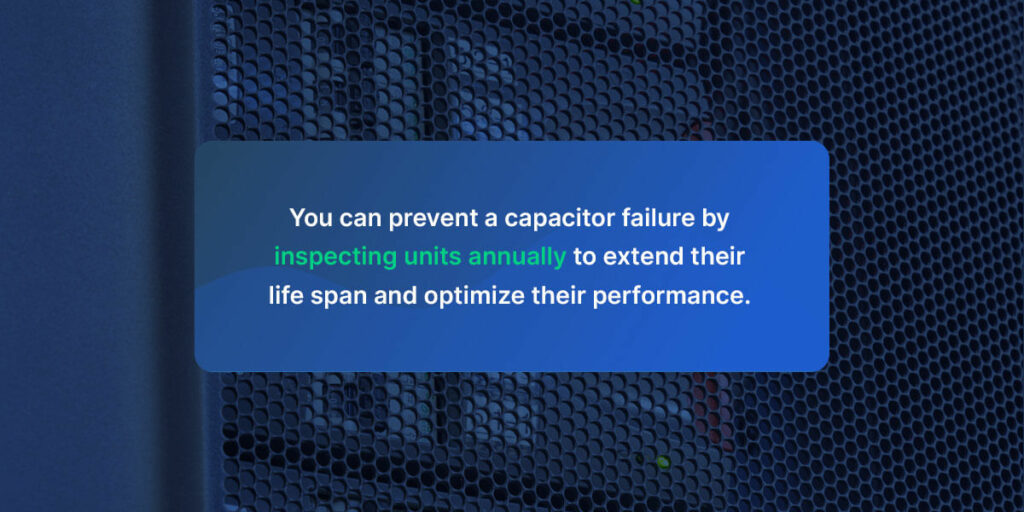 A typical UPS contains 12 capacitors, but some systems may have more. These capacitors are responsible for smoothing and filtering fluctuations in the voltage.
However, capacitors can degrade over time, which could cause your failure. You can prevent a capacitor failure by inspecting units annually to extend their life span and optimize their performance.
3. Fans
Some UPS fans may perform well for 10 years of continuous use, while others could run for just a short time before locking up or failing.
Electrical or mechanical limitations and dried-out ball bearings are common issues that can resulting in fan failures and subsequent UPS overheating.
4. Filters
A UPS may overheat (and shutting down) when particulates like dust and debris block air filters.
Because replacing filters is an inexpensive component of an effective UPS maintenance plan, they should be inspected monthly and changed as needed.
5. Connections
Poor connections are among the most common reasons for UPS failures in modern systems, as loose internal connections can cause an unexpected failure. Regular inspections can help you catch faulty connections before they become a problem.
An annual PM visit allows a trained service technician to inspect the UPS and battery cabinets for loose internal connections arising due to machinery close to the unit or building vibrations.
6. Power supplies
Even redundant power supplies can be impacted by input voltage surges, leading to stress and overheating. If you notice that your UPS is regularly running hot, especially frequently, you could attribute a UPS failure to aging power supplies.
However, determining that an aging power supply is the reason for your UPS failure isn't as easy as identifying other UPS problems. You'll likely need to contact a professional team to help you complete an inspection and get your system back in order as soon as possible to prevent downtime.
7. Contactors
Also susceptible to dust, UPS contactors should be inspected and cleaned regularly. Dust in the contactors can cause other components to fail, leading to costly repairs and downtime. Keeping up with maintenance and regular inspections can help you prevent these problems.
While it's clear that UPS components are prone to failure for vario reasons, investing in preventive maintenance with a professional and skilled service provider will appreciably reduce your risk of downtime — and potential disaster.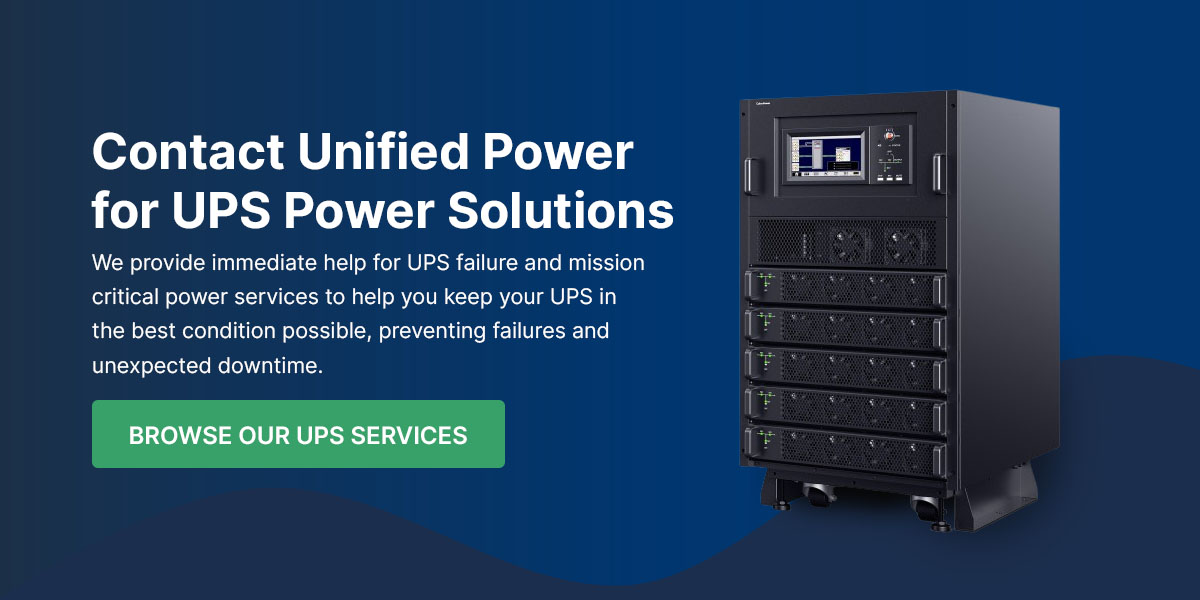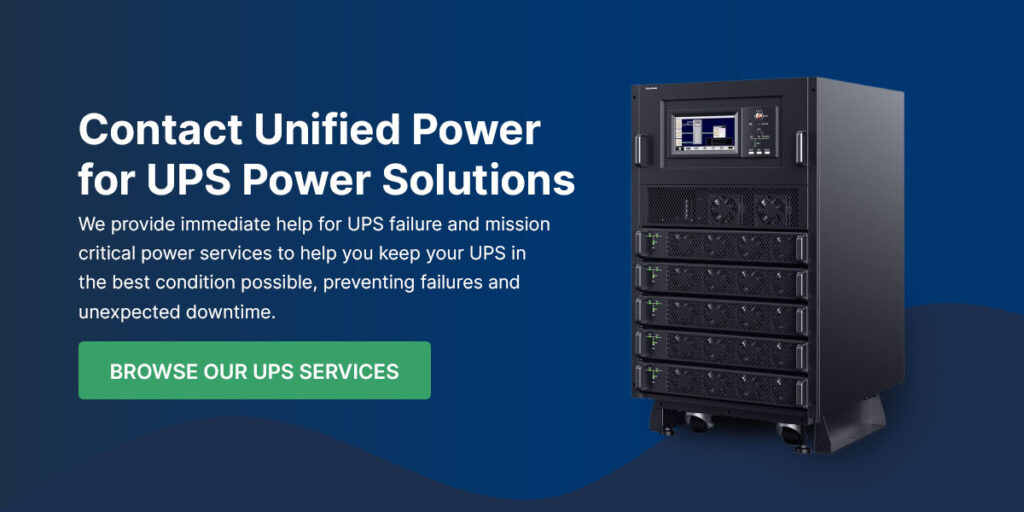 Contact Unified Power for UPS Power Solutions
At Unified Power, we are committed to delivering exceptional, timely maintenance performed by highly trained industry professionals. We provide immediate help for UPS failure and mission critical power services to help you keep your UPS in the best condition possible, preventing failures and unexpected downtime. We can service any UPS, even if you have multiple brands and models installed in your business.
We also offer UPS service contracts so you can rest easy knowing your business is protected. Our contracts range from one-time preventive maintenance to full service, including labor and parts coverage. You can browse our UPS services today or contact us to request a service and learn more about the benefits of partnering with us!
Page updated on: August 18, 2023