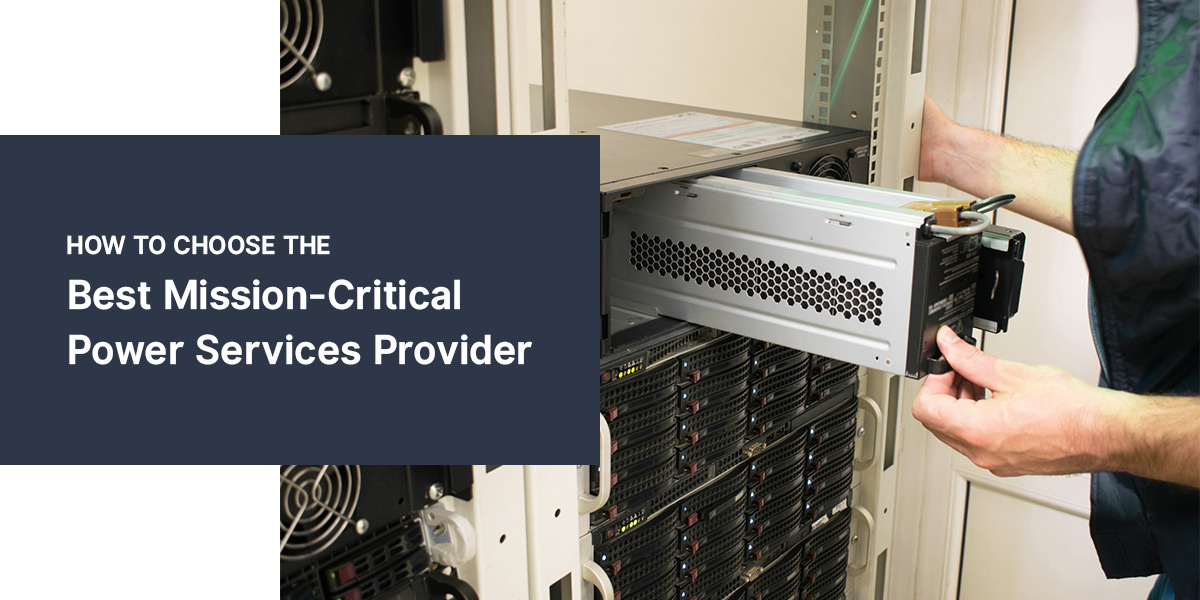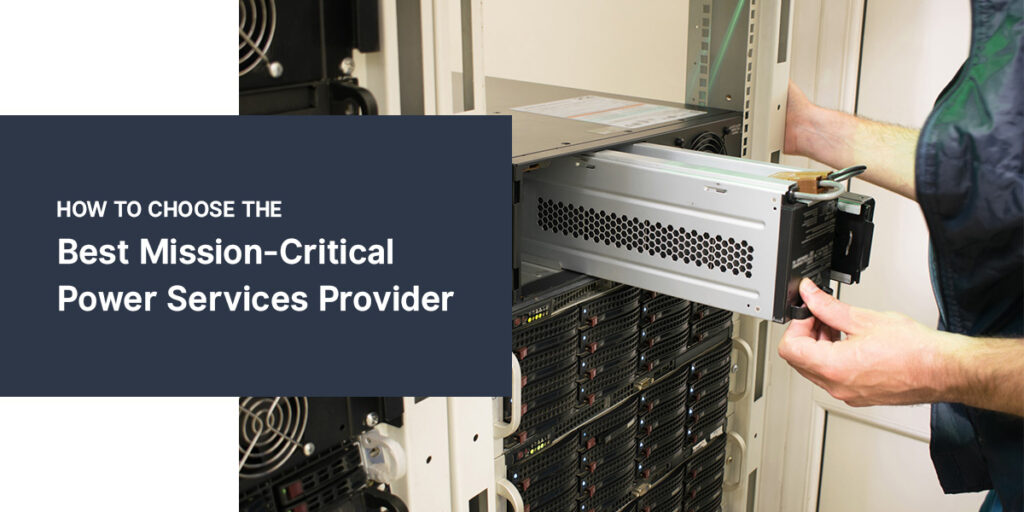 While uninterruptible power supplies (UPSs) and generators are key to keeping your business operational during a blackout while minimizing the risk of equipment damage and data loss, these systems require routine inspections to ensure that all components are running optimally.
Jump to Sections:
How to Choose the Best UPS & Generator Services Provider
Choosing the uninterruptible power supply and generator service provider that's right for you can help you increase uptime of your business operation and prevent power complications from disrupting your work. The first step to choosing a UPS provider is to consider the needs of your business. If you're wondering how to pick the best mission-critical power services provider, you may consider the following guide to selecting the best mission-critical power services supplier:
1. Services Offered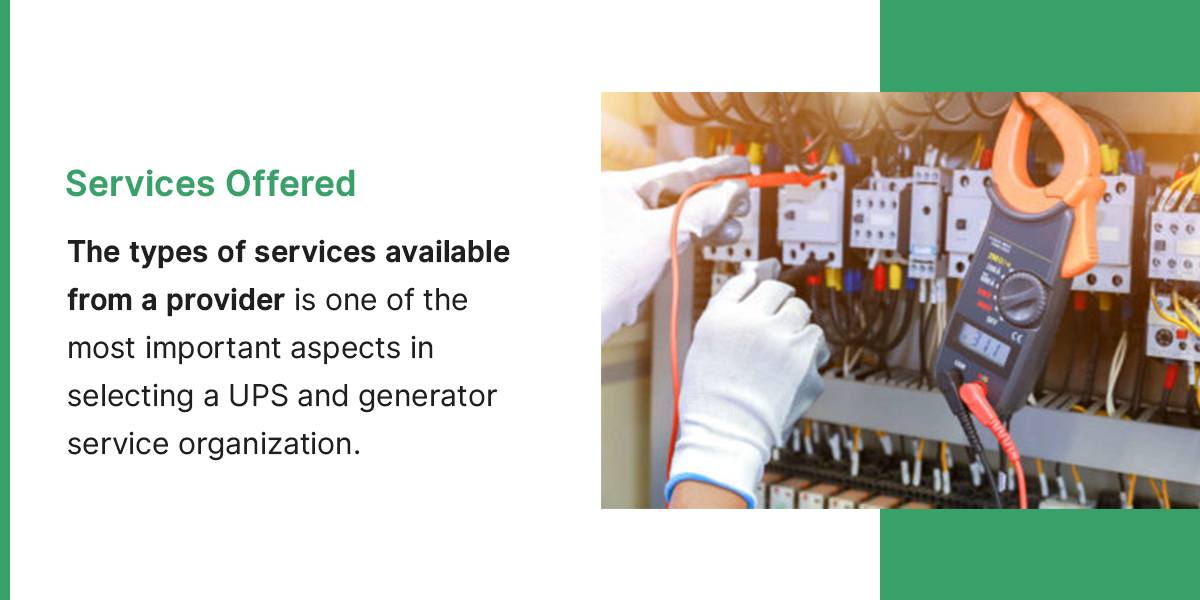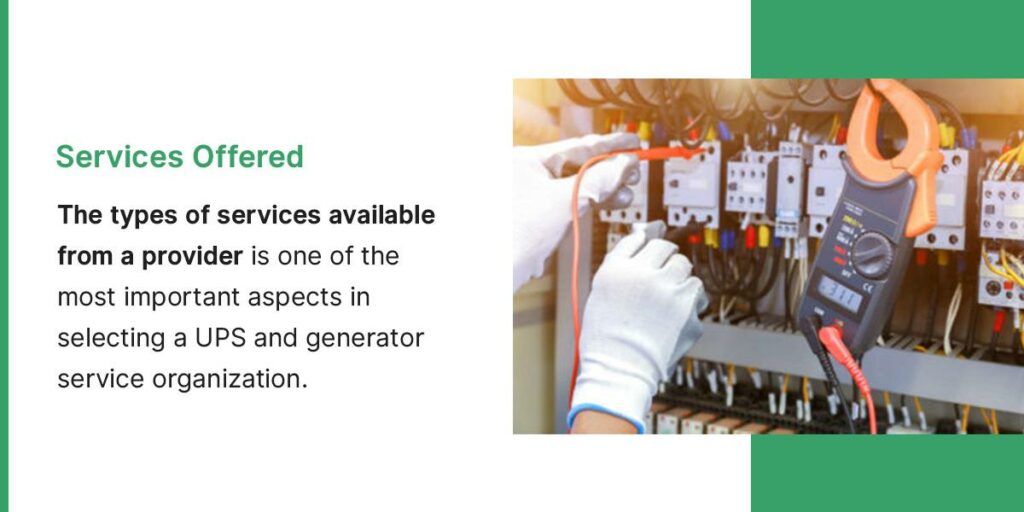 One of the most important aspects to consider when choosing a service provider is the type of assistance they provide. Identify the services you need in order to ensure that your UPS and generator perform as expected when you need them most, such as regularly scheduled preventive maintenance and emergency service.
2. Years of Experience
Another essential factor to consider is the overall field experience of a mission-critical power services provider. In most cases, more experience results in more hands-on knowledge to deal with various situations. Additionally, a mission-critical power services provider should be able to help you navigate complex issues if they arise.
3. Ease of Contact
The ease of contacting your service provider can be a strong indicator of their overall quality. Ideally, you want to work with a single point of contact who can help you set up any appointments or services you require. This also helps to prevent confusion, streamline processes and ensure that you can reach your provider in a timely manner in the event of an emergency.
Common Power Problems Commercial Businesses Face
Commercial businesses rely on a dependable power supply to perform various tasks and objectives. When this power supply is compromised, it inhibits a business from functioning properly, resulting in revenue loss. These power supply complications occur for many reasons, from environmental conditions to aging infrastructure.
Some of the most common power problems a commercial business may face include:
Short Duration Outages: Typically these are total interruptions of the utility with a duration of less than one second to one or two seconds usually caused by the opening and closing of protective devices, insulator, and lightning arrestor failure. 
Long Duration Outage: Total interruptions of the utility with duration exceeding 2 seconds. Typically caused by Equipment failure, objects striking utility lines such as trees cars ect. human error, or failure of protective devices.
Voltage Sags:A Voltage sag happens when the voltage drops between 10% and 90% of the expected voltage for anywhere between a half cycle and one minute. These are one of the most common disturbances businesses face, increasing the risk of system resets and data loss.
Voltage Spikes: Extremely short duration increase in the utility line with durations in the microseconds to milliseconds. Typically caused by lightning, line switching, and disconnection of heavy loads. Spikes can often result in result in the destruction of electronic devices, data loss, damage to insulation, and electromagnetic interference.
Electrical Noise:Known as frequency noise, electrical noise can disrupt circuit performance by inserting anomalies into the system. High-frequency noise may even lead to circuit or equipment damage.
Equally important is choosing a service provider that is right for you. The first step is to consider the needs of your business. Keep in mind that engaging with a single organization for both UPS and generator services can streamline your service requirements and reduce hassles by providing a single, trusted source ─ further helping to increase uptime and prevent power complications from disrupting your operations.
The Importance of Consistent Critical Power Maintenance
When your business experiences a power complication or blackout, you rely on your generator or UPS system to run smoothly and efficiently. Fortunately, power complications don't occur very often. That said, without routine generator or UPS maintenance, you won't be able to determine if your UPS system is in optimal condition and ready to run during a power failure. 
Some of the most important benefits of UPS and generator maintenance include:
Promote uptime: Routine UPS and generator maintenance can prevent complications and avoid costly downtime that can reduce your business's efficiency. Prioritizing productivity and uptime can help your business continue performing effectively. The importance of UPS maintenance and regular inspections can ensure all components are functioning properly.
Improve efficiency: Preventive maintenance for an uninterruptible power supply can ensure all equipment is operating efficiently and effectively to reduce potential complications. Routine maintenance can also help ensure a UPS will work effectively if a power outage or blackout occurs.
Reduce the need for costly repairs: If a generator or UPS system malfunctions or experiences a complication, it'll likely need repairs or even a replacement. Because repairs can be costly, it's important to avoid them. Routine maintenance can detect potential issues in their earliest stages, reducing the need for more expensive repairs down the line.
Enhance performance: Consistent generator and UPS maintenance can ensure power systems are operating at peak performance and efficiency. If any components of your critical power equipment aren't functioning correctly due to damage or wear or tear, they can be replaced to ensure high-quality performance.
Benefits of Choosing Unified Power
Backed by decades of experience, Unified Power is a leading UPS and generator service provider offering an extensive range of services designed to ensure the ongoing, optimal performance of these systems. Professionally trained on all major manufacturers' equipment and an affordable service alternative to Original Equipment Manufacturers (OEMs), Unified Power's technicians are experts in identifying potential problems, ascertaining overall system reliability, and validating the operation of critical power infrastructure. And because we have the expertise and training to work on any brand of equipment, we are uniquely qualified to handle your entire UPS and generator preventive maintenance schedule, regardless of the mix of manufacturers ── reducing the number of service providers you have to deal with and eliminating the hassle of scheduling with multiple OEMs.
With the most extensive nationwide service footprint, Unified Power's trained technicians are where you need them to be and ready to perform the services you require at your convenience ── whether it's the middle of the night or during regular business hours.
In addition to providing critical power equipment and service maintenance across the country, we can custom-tailor power solutions to meet the unique needs of your business.
When learning how to choose the optimal service provider, consider these additional benefits of Unified Power:
Commitment to quality: At Unified Power, we're committed to providing the highest level of quality to all of our customers. We strive to offer innovative power solutions that use state-of-the-art technology.
Emergency service: Unified Power is proud to be an emergency service provider capable of responding to all UPS, generator and battery service repair needs at any time of day. We provide repair services for mechanical failures and other situations that may cause damage or complications to power systems.
UPS and generator expertise: Our UPS service providers are experts in UPS and generator repairs. With decades of experience, we are well-equipped to diagnose and correct any complications. We also offer UPS rentals, battery monitoring services, battery capacity testing, battery recycling services and more.
Industry expertise: We provide UPS and generator services for a wide variety of industries, including telecom, government, data centers and health care.
Contact Unified Power for UPS & Generator Repairs and Services
Unified Power is a leading power service provider offering UPS and generator repairs and services. For over two decades, we've provided power equipment and service maintenance to numerous companies across the country, spanning several industries. We offer UPS rentals, battery monitoring services, battery capacity testing, battery recycling services, and more.
To get started with our services, contact us online today or call (855) 607-0202.