With the holidays upon us, it's easy to see how 2020 has been a difficult year for many. Reflecting upon this, Unified Power wanted to take the opportunity to give something back to those who have given us so much.
"In previous years, as many other companies have done, we sent gifts as a symbol of appreciation to our customers," said Eric Reisner, Unified Power CEO. "I am really proud of our management team's decision to redirect this spend to charities that have been affected by the pandemic. The first recipient is GIS4GIS and their focus on active military, veterans, and first responders."
That's why this year, Unified Power couldn't be prouder to donate $5000 to this amazing nonprofit organization.
GIS4GIS is a charity started by Unified Power's own Brian Crandell, a field engineer and military veteran. The aim of this nonprofit organization is to provide free Gis.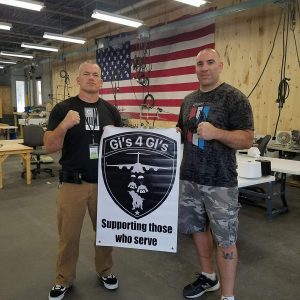 The most memorable thing a martial arts student remembers is the first time they put on their gi. It is not just a uniform to them, but also a covering for both a physical and spiritual journey.
In Brian's case, Brazilian Jiu Jitsu is his martial arts of choice, which is what his charity encourages. Brian himself is a black belt, with 14 years of constant training. To date, Brian has sent out over 3900 gis to active military, veterans and first responders all over the world, on six different continents.
He explained the reasoning behind this and what getting a gi can do for someone. "Most veterans and military have a sense of direction, sense of purpose. After leaving, there can be a difficult transition to civilian life."
He continues. "The structure of Brazilian Jiu Jitsu fits into the mindset of veterans. Once they leave the service, they sometimes feel like they lack guidance, and turn to alcohol, drugs and other destructive habits."
"More than anything, it is both a physical and mental exercise that keeps the mind occupied, as well as providing goals to work towards. As such, it can be a powerful way to keep their mind off PTSD while making new friends."
Brian was very passionate when talking about his nonprofit, saying if he can even save one life by helping to keep veterans occupied, every second he has spent will have been worth it.
He looks to the future with GIS4GIS, hoping to one day to not only increase the amount of gis he will continue to provide, but one day build a complete Brazilian Jiu Jitsu facility, offering training, gis and weekend accommodations.
Unified Power has long believed in the value and service that our veterans have given us over the years. Eric Reisner went on to say, "While 2020 has caused so many challenges for so many of us, it is humbling when you meet individuals who sacrifice so much for others and truly see themselves as servant leaders".
From the Unified Power family to everyone, we wish for a safe holiday season and look forward to what 2021 will bring.