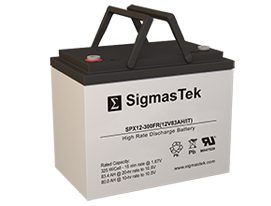 SigmasTek SPX Series consists of maintenance free batteries with non-spillable design. SPX Series are multi-functional for both cycle and standby use and can operate in any orientation.
SPX Series have life expectancy up to 10 years in standby use and can be used for up to 300 cycles at 100% discharge in cycle service. SPX Series is specifically designed for high-rate UPS discharge applications, where higher power output is required over short periods of time.
Unified Power helps customers with all of their SigmasTek SPX battery needs, and we'd enjoy the opportunity to help provide them for your organization.
Products
| Model | V | AH | Watts/Cell | Length | Width | Height |
| --- | --- | --- | --- | --- | --- | --- |
| SPX12-100FR | 12 | 28 | 93 | 6.46 | 4.92 | 6.77 |
| SPX12-120FR | 12 | 33 | 120 | 6.54 | 4.96 | 6.89 |
| SPX12-150FR | 12 | 36 | 150 | 7.68 | 5.12 | 6.46 |
| SPX12-200FR | 12 | 56 | 225 | 9.02 | 5.43 | 7.87 |
| SPX12-300FR | 12 | 83 | 325 | 10.2 | 6.61 | 8.19 |
| SPX12-350FR | 12 | 97 | 370 | 12 | 6.61 | 8.15 |
| SPX12-400FR | 12 | 112 | 430 | 12.8 | 6.69 | 8.39 |
| SPX12-500FR | 12 | 145 | 491 | 13.19 | 6.77 | 10.83 |
| SPX12-540FR | 12 | 159 | 539 | 13.19 | 6.77 | 10.83 |
Technical Specifications
Designed for UPS Applications
Absorbent Glass Mat Technology
Flame Retardant Covers and Containers Available
Built for Extended Usage
Manufactured in Registered Production Facilities
Built for High Rate Discharge Applications
UL Listed