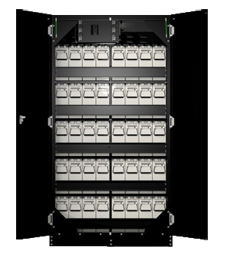 Unified Power offers a complete line of battery cabinets for both UPS and Telecom Applications. These cabinets can be configured to match OEM cabinets and offer a competitive option for system upgrades or new projects.
Features
Space saving foot print is the industry's most compact design.
Bottom and top entry plates provided for easy DC load connections.
Removable hinged doors for easy access.
Locking doors provide access security.
Removable side panels for simple cable installations between strings.
Easy maintenance design allows full front access for safety.
Designed to accommodate most front terminal batteries.
DC Circuit Breakers up to 800A available.
Breaker options include: Shunt Trips, Auxiliary Contacts and Under Voltage Releases.
Acid resistant powder coat finish using a five stage immersion pre-treatment process.
Fully welded frame construction made of heavy gauge steel.
Front and rear access for standard pallet jack.
Options
Additional Booster chargers available for longer run times
Spill containment systems options are available.
Remote Battery Monitoring options are available.
Custom colors are available to match existing equipment.
CABINET
MODEL

BATTERY TERMINAL TYPE

DIMENSIONS INCHES/WIDTH

BATTERY CAPACITY

FRONT

TOP

W

D

H

Weight

In.- mm

In.- mm

In.- mm

Lbs. – Kg

EFC52

✓

44.9-1140

29.5-750

84.0-2134

770-350

Max 40

EFC53

✓

74.5-1892

28.0-711

78.7-2000

1040-428

Max 40

EFC54

✓

44.9-1140

31.5-800

84.0-2134

820-373

Max 40

EFC63

✓

67.5-1715

28.0-711

84.0-2134

1070-487

Max 40

ETC32

✓

36-915

29.5-749

70.9-1800

450-204

32-40-60

ETC36

✓

36-915

29.5-749

78.7-2000

510-231

40-60

ETC40

✓

40-1016

29.5-749

78.7-2000

545-248

40-60